Rush University Medical Center
Rush University Medical
Center
1653 W. Congress Parkway
Chicago, IL 60612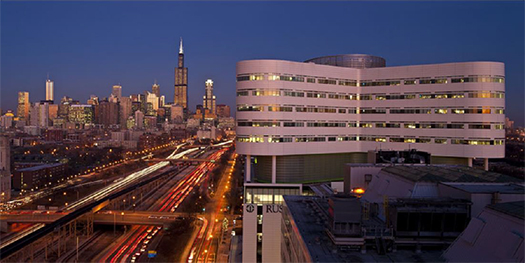 Services
Physical and Occupational Therapy
Suite 107 (312-432-2513)
Parking
Patrons should bring their parking ticket with them when they exit their vehicle, in order to pay at one of the seven conviniently located pay stations after their visit.
Valet Parking for the Orthopedic Building is accessible from Harrison Street and from Flournoy Street, between the Orthopedic Building at the Rush Parking Garage.
Rush Visitor's Parking Garage
Located across the street from the main entrance of Rush University Medical Center at the southeast corner Paulina & Harrison streets.
The 4th floor of the self-pay parking garage provides direct access to the Orthopedic Building. We encourage you to use Section A of the garage and park on the east side of the 4th floor.
Valet is available at the main entrance of the Hospital: 1620 W. Harrison Street
Surgery Time
The hospital will call you in the late afternoon before your surgery to tell you the schedule time of your surgery, and what time to arrive at the hospital.
Checking In
If you park in the Visitor's Garage, check in at the Admitting/Registration desk: Atrium Building 1650 W Harrison Street, 4th floor
If you valet, Check in at the Admitting/Registration desk: Brennan Pavilion, 1620 W Harrison Street, 1st floor
If you need wheelchair transport, assistance is available at the valet entrance of the Brennan Pavilion
Directions